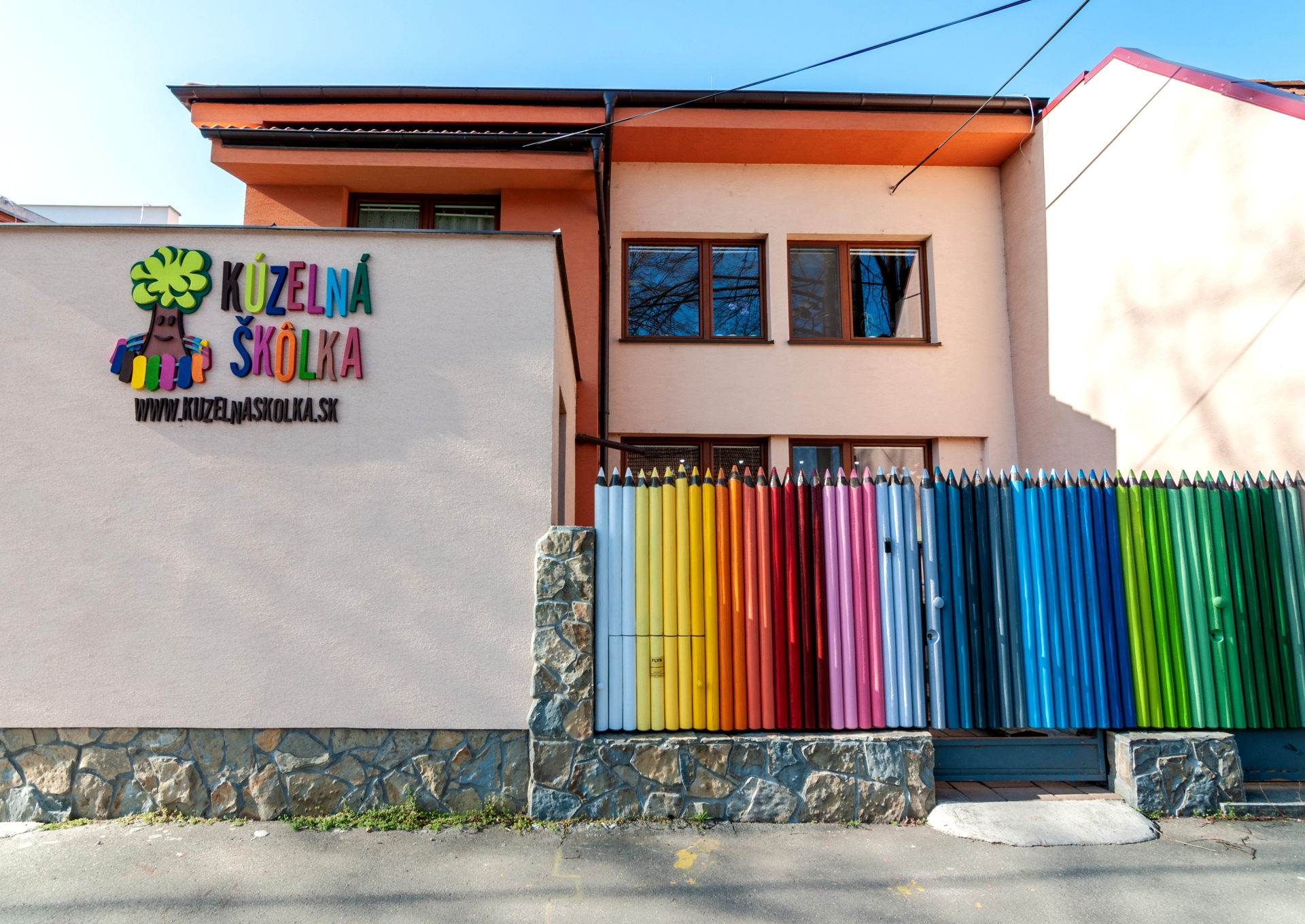 Kúzelná škôlka,
on Markovičova street 40, in Trnava, Slovakia.
We are introducing you the first art-language, private kindergarten "Kúzelná škôlka" in Slovakia, for the children aged 2 to 6 years, which is the sequel of the private crèche Tulipán in Trnava. The private kindergarten "Kúzelná škôlka" is classified in the network of schools and school facilities of the Ministry of Education of the Slovak Republic.
Kúzelná škôlka provides for child and their family inspiring and lovely environment. Besides education, the most important things for us are the feeling of safety and the trust in educator. Here, the child celebrates their uniqueness every day.
Innovative concept of teaching
The educational program according to the state educational program ISCED 0, although from the content, didactic and professional-methodical point of view, we design it mainly according to our requirements because we flexibly adapt to the child's interest and activity and push the borders to the international level.
A team of educators who have also been trained in the application of principles and methods of alternative education systems: practical use of touch tablets for education of the children with PAS and SVP; taking out the best of humanist, Montessori and Waldorf pedagogy; integrated thematic teaching; learning through experience; project teaching and intuitive pedagogy.
Three-month projects that link to major units such as "Nature", "I am", "People", "Culture". Over the course of three months, the main artist together with the children, gradually transforms the room into a planetarium, human body, fairy-tale nature etc. The child is naturally educated and they enjoy their work.
The selection of content units or topics or sub-topics, the processing of which is also linked with close cooperation with the organizations ISEC, Strom života, Ekoenergia and others. We also use all available options of linking with content, such as excursions, exhibitions, trips, theatre performances, that are scheduled in advance.
Working hours and structure of classes
All-day, half-day and irregular care from 6:00 (7:00) to 17:00.
Children are divided into small and age-appropriate classes, with a separate program with adequate teaching. The main, three-month project is made by all children together.
If a child comes later, team of assistants give them necessary information so that they can join the group.
Interior and material equipment
Lovely spaces, full of light and colours, were designed for children's imagination and create a fantasy place for playing and learning. Children can find a large chalk wall and many interactive games here.
We are preparing an interactive TV on which you will be able to see specific notes, photos, videos and reports of your child and kindergarten after you arrive at kindergarten. They are recorded throughout the day by teacher assistant. Educators are available for individual communication with the child's parents. The kindergarten wants to work closely with parents in order to achieve a connection between the home environment and the school environment.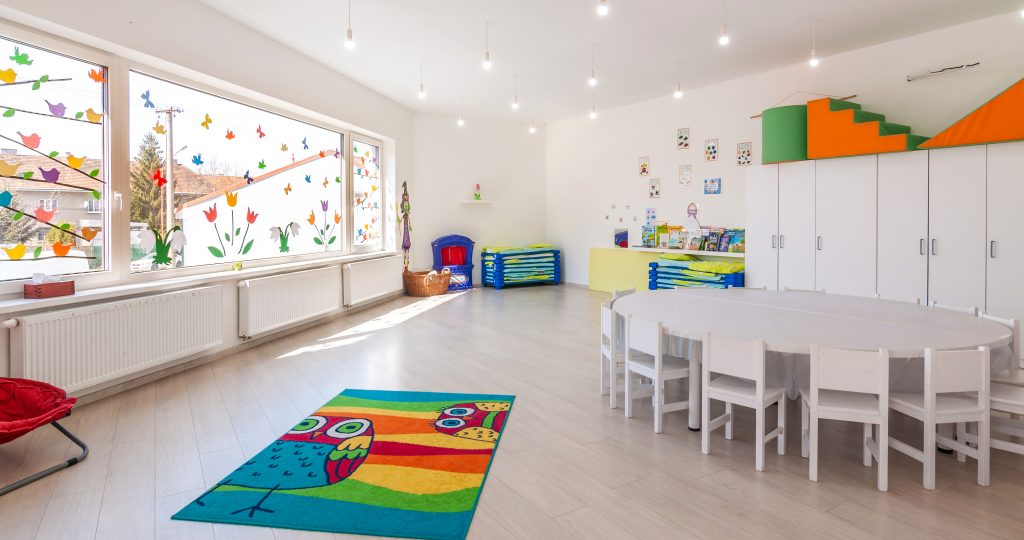 What do we eat?
We offer our own kitchen and balanced healthy diet.
When preparing meals, we use only raw materials of high quality, Slovak dairy products, cheeses with a high dry matter content, produced only from animal fats. Instead of molten cheese, we use Lúčina, meat is always fresh and of high quality (only false sirloin, roast beef, doll, curry), chickens are from the Farm Lúčny dvor. If we have to use frozen corn, spinach or something like that, we use the best available (Bonduel).
As far as diet is concerned, we are highly adaptable. We offer complete weekend programs with specialists for meals for children and mothers where we help to create the right eating habits according to the child's health. Children eat up to 5 times a day, including all-day fruit and vegetable consumption and a fluid intake.
We get everything we need
Interest clubs
Interest clubs are part of the kindergarten's program and the price of school-fee (twice a week English, once a week Science club, twice a week dancing club, once a week club with art carver, Mr. Ivan Slezák).
Children's health
Speech therapist services, visit to a dental facility, working with Curraprox and students of dentistry to teach children about dental hygiene, consultations about child psychologist services. Every month, we give the parents news.
Rental of premises
Possibility to rent our premises later in the afternoon and evening, on weekends.
Weekend events
Possibility to attend weekend events in the kindergarten or Tulipfit.
Daily routine in Kúzelná škôlka
GROUP OF MRAVČEKOVIA
(the children aged 2,5 to 4 years)
| | |
| --- | --- |
| 07.00 – 08.30 | arrival of children to kindergarten, morning filter, free game |
| 08.30 – 10.00 | educational activities, interactive games |
| 10.00 – 10.15 | elevenses |
| 10.15 – 11.30 | outdoors stay (depending on the weather) |
| 11.30 – 11.45 | hygiene, preparation for lunch |
| 11.45 – 12.15 | lunch |
| 12.15 – 12.30 | preparation for sleep, relaxation |
| 12.30 – 14.30 | sleep of children, rest |
| 14.30 – 14.45 | hygiene, dressing |
| 14.45 – 15.30 | snack |
| 15.30 – 17.00 | activities and games or outdoors stay, free games, departure of children |
GROUP OF SOVIČKY
(the children aged 4 to 6 years)
| | |
| --- | --- |
| 07.00 – 08.30 | arrival of children to kindergarten, morning filter, free game |
| 08.30 – 10.00 | educational activities, interactive games |
| 10.00 – 10.15 | elevenses |
| 10.15 – 11.45 | outdoors stay (depending on the weather) |
| 11.45 – 12.00 | hygiene, preparation for lunch |
| 12.00 – 12.30 | lunch |
| 12.30 – 12.45 | preparation for sleep, relaxation |
| 12.45 – 14.30 | sleep of children, rest |
| 14.30 – 14.45 | hygiene, dressing |
| 14.45 – 15.30 | snack |
| 15.30 – 17.00 | activities and games or outdoors stay, free games, departure of children |